Upcoming ASHHRA Exchange LIVE
Check back soon for upcoming ASHHRA Exchange Live dates.
ASHHRA Exchange Live is an opportunity exclusively for ASHHRA members to engage in dialogue in real time about specific topics relevant to you. Think of it as a live version of the ASHHRA Exchange discussion forum. Hosted by ASHHRA Interim Executive Director Jeremy Sadlier and members of the ASHHRA Board, this monthly event is a unique opportunity for you to ask questions, raise issues and share your ideas with immediate feedback from fellow ASHHRA members. Log in to access the dial-in details.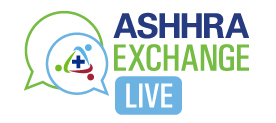 Date: Wednesday, April 7, 2021 Cancelled
Time: 1:00 p.m. CT (2:00 p.m. ET) Cancelled
ASHHRA Exchange Live will resume later this year. An email invitation will be sent to members with updated information.