Thursday August 26, 2021
>
Health Care HR Week Specials
Happy 10 Years of Health Care HR Week!
Here's a quick guide this week's specials.
2021 marks the 10th anniversary of Health Care HR Week! In honor of the 10th year of Health Care HR Week, below are 10 notable notes to kick off the week! ASHHRA is thrilled to offer exclusive opportunities that will be available during this week only, including FREE education, raffles, discounted membership, Team and Initiative recognition and more! Be sure to scroll all the way through so you don't miss out on any of them.
And keep an eye out for messages throughout the week for even more highlights that underscore critical role of health care HR as Strategic Partners of the Health Care Workforce!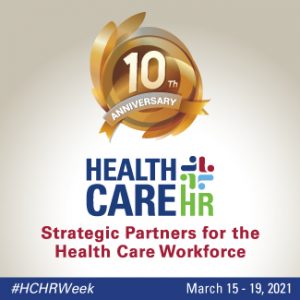 1. NEW EXECUTIVE FORUM WHITE PAPER
Leading With Flexibility: Lessons Learned From 2020
The 2020 Executive Session explored how health care leaders in New York City navigated the disruptions, constantly changing climate and intense stress to serve their diverse communities in urgent need of care. This executive summary shares lessons learned and practical future guidance for providing care and support to patients and employees while continuing to demonstrate community leadership in combating racial and social inequity.
The New Normal: HR Benefits of Successfully Navigating Change in a Fast-Paced Health Care Workplace
Wednesday, March 17 | 1 p.m. CT (2 pm ET)
To retain talent, we must understand the effect change has on staff or risk losing them to a competitor. Addressing concerns openly can increase retention, grow productivity, and lower stress and health issues. Attend this FREE webinar to learn how to demonstrate a greater ability to successfully lead through and navigate a culture of change.
Save your seat
Give a colleague 10% off and YOU get upgraded member benefits
Share your passion for ASHHRA membership by referring your colleague with a 10% discount code to join! If your colleague becomes a member by March 31, 2021, YOU will receive Practitioner Plus or Affiliate Plus member benefits, where you get up to 12 complimentary webinars (including post-webinar recordings).
Register
4. WORKFORCE BENCHMARKING
This week only – register to participate in the HR Metrics Tool benchmarking survey and save 10%! No code necessary but you must sign up by Friday, March 19 to take advantage of this offer. Data collection closes soon, so sign up now! 
Sample Policies for Free Membership
We're building the ASHHRA Policies library and you can help! Submit three or more of your policies from the request list during Health Care HR Week and you'll be entered into a raffle to win one year of ASHHRA membership! As a current member, that means your membership could be extended for one full year!
Job Descriptions for Free Membership
Submit three job descriptions from the request list and you'll be entered into a raffle to win one year of free membership. As a current ASHHRA member, that means you could have your membership extended for one full year.
7. FREE ON-DEMAND SESSION
FREE On-Demand Session Coming Friday
On Friday, March 19, we will release a complimentary on-demand session from the ASHHRA20 virtual conference so you can get an idea of the quality of education you can expect at the ASHHRA21 Virtual Conference, April 26 – 27. Keep an eye on your inbox for this special release!
Open Access to HR Pulse magazine
ASHHRA members have access to the print and digital versions of HR Pulse magazine as a member benefit. This week only, we are making all of the 2020 issues available for open access! See for yourself why the HR Pulse is such a valuable resource.
 
BONUS: Complete this form to get a free copy of the upcoming issue mailed to you!
9. TEAM RECOGNITION SPOTLIGHT
Shine the Spotlight on these Teams
2020 has been a year like no other, which makes it even more important that we take the time to express our gratitude to the teams who helped us all get through it together. Click on the link below for the teams being recognized this year. The page will be updated throughout the week, so check back regularly to see who will be next on the spotlight!
10. INITIATIVE RECOGNITION SPOTLIGHT
Get inspired by these Initiatives
Thoughtful gestures, big and small, can have significant impacts that we can't always measure. This year, we want to highlight the creative efforts of health care HR professionals who encouraged, supported and uplifted the care givers on the front lines. Click on the link below and get inspired by these efforts. The page will be updated throughout the week, so check back regularly to see who will be next on the spotlight!