Can Money Buy Engagement? A New Perspective on the Relationship Between Compensation and Engagement in Today's Workplace
While compensation does not directly drive engagement, it does enable key drivers of engagement to be optimized thus indirectly triggering engagement. This shifts typical views of compensation from unimportant to important in building engagement. Saint Luke's Health System advanced modeling finds that compensation powerfully interacts with engagement drivers.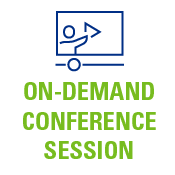 Articulate factors that directly influence engagement in the workplace versus those that indirectly drive engagement only through indirect pathways.
Understand the indirect influences that a fair and well-crafted compensation plan exerts on achieving a highly engaged workforce.
Estimate the actual change to be expected in engagement when more favorable views of compensation are cultivated — and how to cultivate those changes.
David Rowlee
Managing Director and Practice Leader, Arthur J. Gallagher & Co.
Dawn Murphy
Senior Vice President of Human Resources, Saint Luke's Health System
ASHHRA Member: $45.00
ASHHRA Non-Member: $85.00
Access your on-demand education
All of your ASHHRA On-Demand purchases are easily accessible in the ASHHRA Education Portal.