Recruiting and Retaining New Nurses: Lessons Learned From Three Years of a Nurse Residency Program
94% of attendees stated they agree and/or strongly agree that they will be able to implement the information presented in this session.
This on-demand session provides an overview of the structure, staffing, content and strategies employed by a large health system as a nurse residency program was designed, deployed, evaluated and modified over a three year period. Recruitment and retention strategies will be discussed and both HR and clinical metrics will be shared. The presentation will cover both the positive lessons learned as well as  those of the  "what were we thinking?" variety.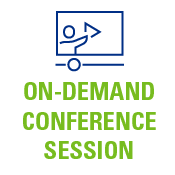 Participants will be able to identify three strategies associated with enhanced nurse engagement, connection to a new unit and willingness to "stay."
Participants will be able to list at least three strategies which can be used to improve clinical content retention and improve the performance of new nurse residents.
Participants will be able to discuss the "manager factor" and how it relates to not only retention, but overall organizational "buzz."
Elizabeth Bruno, MSN, RN
Chief Learning Officer, Baptist Health
ASHHRA Member: $45.00
ASHHRA Non-Member: $85.00
Access your on-demand education
All of your ASHHRA On-Demand purchases are easily accessible in the ASHHRA Education Portal.